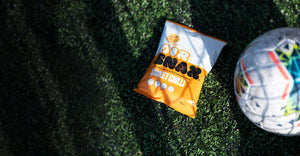 SNACKS AREN'T
HEALTHY IF THEY
LEAVE YOU HUNGRY
Feel the Airsnax Difference
TASTER BOX
TRY ALL OUR FLAVOURS
Our Taster Box has three bags of all four flavours in so you can find your favourite!
BUY NOW
JUST PLANT-BASED GOODNESS
So....
WHAT ARE AIRSNAX?
Puffed chickpeas, yellow peas and green peas that are light and yet a miraculously filling snack thats just packing great flavour, wholesome goodness and all round good vibes.
Next Gen Snacking | Made in England
The DIFFERENCE
LOW IN CALS / HIGH IN GOOD TIMES
We all know unhealthy snacks are bad, but healthy snacks often just don't cut it. They might be healthy, but they usually leave you hungry. What's the point in that?
That's why we've combined the lightness of puffed chickpeas, green peas and yellow peas with natural, nutrient dense, toppings to create a satisfyingly sweet-savoury-crunchy snack that's both healthy and filling.
BUY NOW
FIND YOUR NEAREST AIRSNAX STOCKIST
All you need to do is enter your postcode to find your nearest Airsnax stockist!